What Is An Expert Witness Surveyor
Posted by:
Admin
Tags:
Posted date:
28-08-2022
Find out what is an expert witness surveyor? We look at the role of an expert witness and when you will need an expert witness.
An expert witness surveyor in property valuation disputes will pursue third-party cases on your behalf. On the other hand, an expert witness is a term used to describe someone that will assist a court with their expertise in a legal dispute and is commonly called upon as an expert witness in civil proceedings.
They are defined as anyone with specialist knowledge of the subject on which they are asked to give their expert opinion. Expert witness surveyors are relied upon by the court to provide a non-biased and impartial analysis to assist the jury in reaching a legally sound verdict.
They will compile an independent report based on their findings, experience, and industrial knowledge. They independently inspect the property, review documentation, and prepare reports with an impartial and professional view on property and land valuations. This report only contains facts, expert assumptions, and relevant and correct details.
Because of its accurate and legal nature, the report often resolves all disputes, helps both parties reach an agreement, and settle down outside the court.
When Do I Need An Expert Witness?
You should seek an experienced Chartered Building Surveyor to assist with resolving a property-related dispute between you and a neighbour, especially if your neighbour does not play fair.
A Chartered Building Surveyor is a member or fellow of the Royal Institution of Chartered Surveyors (RICS), who will be involved in all aspects of construction and property.
If it is required, an expert witness will produce a comprehensive report of their expert opinions and follow these in court appearances should it become necessary to be called in.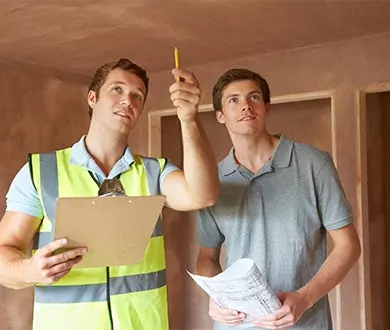 However, calling in an expert witness and having an early consultation with them should avoid any court appearances becoming necessary. Take some time to explore your options. You could try mediation or arbitration before booking a court date, which will save you some serious money.
The Chartered Building Surveyor will act as an expert witness to your disagreement. You can discuss all the details of your disagreement with them. In return, they will provide their independent view of the situation and show you the options you have to move forward.
Expert Witness Reports
Expert witness reports are for resolving a range of property-related disputes. That's where an expert witness, or an expert witness surveyor, comes in to create such a report. These reports resolve situations where specialist matters are understood only with specific professional experience and knowledge.
If you need a professional opinion or expert witness statement, expert witnesses can create reports that abide by the Civil Procedures Rules, or CPR. Expert witness reports are compiled independently for court appearances, arbitrations, tribunals, and other resolution processes. They are vital for enabling both disputing parties to reach an agreement amicably without escalating matters further.

The Role Of An Expert Witness
An expert witness is to give their opinion based on their expertise, experiences, and knowledge of the current situation, industry teachings, and legal documentation.
Their overriding duty is to individually produce unbiased evidence to a court or tribunal. Expert witness surveyors can work on behalf of a disputing party or as a single join-witness surveyor.
Expert evidence is required to resolve any disputes across construction, land, and property disputes.
Expert witnesses, especially RICS expert witnesses, assist the court on matters within their expertise, which are building surveys, commercial properties, compulsory purchases, developments, dilapidations, planning's, retail, and valuations.
Some expert witnesses are asked to report on issues they may not agree with. For this reason, it is wise to have the expert witness carry out a brief report to see their initial findings. If the initial report does not support the client's case, then they have the chance to pull out before spending any more money on the expert witness.
It is important to mention that court cases are expensive, mainly because hiring an expert witness in conjunction with a solicitor is not cheap and, depending on how long the court trial goes on, dictates how much money you keep having to spend on them.
---
Do you have questions about resolving Boundary Disputes in Kent or the surrounding areas? Would you benefit from the advice of a qualified RICS surveyor? Follow the link below to find out more.