Advice On Boundary Issues
Are you in the middle of a dispute with your neighbour concerning land boundaries? Well, you are not alone. A majority of land owners rarely pay attention to specific details about their land after purchase, hence, miss out on vital aspects such as clear land boundaries.

When it comes to rights over a neighbouring property or establishing a boundary, it is often difficult to resolve the issue so that both parties are satisfied. When solicitors and litigation get involved, the situation can become costly. In some cases the legal advice and the costs of taking the case through the courts can end up more than the value of the land being disputed.
We advise on boundary disputes throughout Kent, helping our clients resolve a heated situation with a neighbour.
Some simply assume that their land boundaries run in a straight line along the edges. While this may be true, most times it remains just as it is, an assumption.
Despite advancement in technology such as Google earth satellite photos, street view and Land Registry plans, establishing an exact land boundary is not as easy as it seems. A chartered surveyor who specialises in land boundaries can analyse the information and establish clear boundaries between you and your neighbour's land.
We handle disputes involving adverse possession, rights of way, trees & hedges, nuisance neighbours, breaches to contract and land boundaries. Additionally, we offer professional advice on issues relating to Access to Neighbouring Land Act and the Party Wall Act.
Amicable Resolution
If you are involved in a boundary dispute, the least costly option may be to seek resolution. Our surveyors act as a go-between to ensure you and your neighbour come into agreement terms without going to court.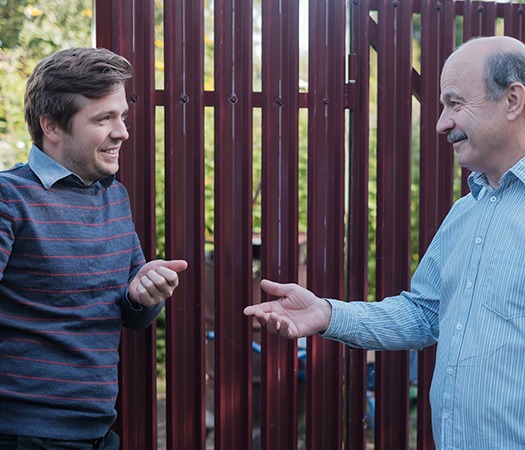 This is especially important if you intend to;
Maintain a good relationship with your neighbour
Save money that would have been otherwise used in litigation
Reduce the amount of time caught up in legal disputes
Avoid the boundary dispute going to court
It can never be overemphasised as to how vital neighbours are. Not only can they look out for you and provide support in times of need, being on friendly terms with your neighbours can also improve the overall experience of living in a certain property or location.
With this in mind, it is advisable to try as much as possible not to step on their toes. This is one of the main reasons why we advocate for an amicable resolution before anything else.

All we require is for you and your neighbour to agree to it, the rest is up to us. If you and your neighbour have already tried to reach a sensible agreement but failed; we shall take care of it.

Our surveyors have expertise in the field and past experience has enabled us to successfully handle numerous cases with a high success rate; your's will not be an exception.

How much does a boundary survey cost?
In general a survey in the UK will cost from £350 and up to £500. The cheapest option will be the physical boundary survey while a legal boundary survey will cost more.
The price of the survey will also depends on the size as well as the location of the property
While a physical survey can take a few hours, a legal survey can take several days to complete
A legal boundary survey requires in depth research and can also require repeated visits to the property to confirm the exact location according to information uncovered.
How do surveyors mark property lines?
If you are unsure of the exact boundary line of your property it is advisable to consult a boundary surveyor. A licensed land surveyor may measure and mark out the boundary lines of your property by using markers.
The surveyor will use information from the property deeds and Ordnance Survey maps to decide on the boundary of the property. The documents held by the Land Registry are not always up to date and do not always have a record of the physical features of the land.
A fence or a hedge may act as a natural boundary, however these may not be within the title deeds which offer a plan to the extent that the property of a house extends.
In England and Wales, a boundary dispute will require investigation by an authorised and regulated surveyor into the following documents and information:
Ordnance Survey Maps
Title Deeds
Land Registry Title
Accurate Description of the Original Property Boundaries
Plans That Indicate the Building and Garden Edge
It is important, therefore to seek advice from a professional surveyor to make a decision on the exact boundary.
What does a boundary survey include?
A boundary survey will differ from a topographical survey in the details included. A topographical survey offers a birds eye view of the area providing information about the contours of the ground, the surface and existing features such as buildings, fences, streets, trees and manholes.
A boundary survey, in contrast, is more simplified. It identifies local features and significant landmarks, but the focus on the survey is for identifying the boundary or resolving a boundary issue.
The surveyor will visit the property to identify physical features and nearby roads and buildings.
Alongside a physical visit, a surveyor will view the legal deeds and plans which spell out the legal boundary of the parcel of land. A surveyor can also consult historic photographs, local searches, planning drawings, information from the property seller as well as published maps.
Using this compiled information and research, the surveyor will evaluate the evidence to decide on the legal boundary. They will thus be able to make an informed decision of the common position of the boundary.
Can you get legal aid for boundary disputes?
Legal aid is not available for boundary or neighbour disputes. This makes it more difficult to pursue a claim against a neighbour. Since, many people cannot afford the legal costs involved in fighting a dispute, it is advised by the Ministry that resolution should be found before taking legal action.
Asking a solicitor for legal advice can become an expensive service to enter into. However, you can avoid expensive solicitors fees by agreeing to a deal.
Get in touch with our chartered surveyor today to discuss boundary dispute resolution in Kent. Our specialist team of surveyors will help both parties involved in a dispute to work together until the matter is resolved.